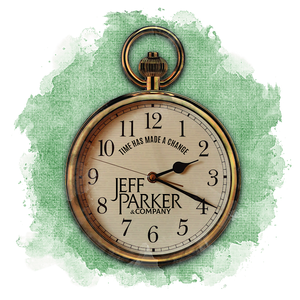 Nashville, TENN --- With more than 3 decades as a touring and recording artist, Jeff Parker has officially stepped out on his own; heading up his own musical venture known as Jeff Parker and Company. 
  The group has a full schedule of showcases and promotional appearances during World of Bluegrass 2019 in Raleigh, introducing music from a new album, Time Has Made A Change, set for release on Friday. 
  "It just felt like 'now or never' to try my hand as band leader," Parker says. "I'm really happy with the group we've put together. It's a fine lineup and we all enjoy each other." 
  Parker, a Kentucky native, began playing music with both the support and inspiration of his father, singing with the family Gospel group as a teen. He later performed for a decade at Renfro Valley, and in 2001 joined Lonesome River Band. In 2007, he joined Dailey and Vincent, holding down the mandolin spot, sharing his incredible vocals, and plenty of onstage antics. 
  As Jeff Parker and Company, he previously produced 4 albums, "Two Roads to Travel" (2004), "Go Parker!" (2012), "It's Christmas Time" (2013), and "Jeff Parker and Company" (2015).  
  Parker signed with Truegrass Entertainment for the 2019 project. The venture was launched by ambitious, young music entrepreneur, Alicia Wasson. Raised around bluegrass music, Alicia's father, Rickey, played with Southern Blend in the early part of his career and later performed with J. D. Crowe as a member of The New South for 15 years.  Mother, Sarah, grew up playing music, and directs a Bluegrass Music Boot Camp at the Bean Blossom festival each summer.  Alicia sings, plays several instruments and has a passion for both business and music. She earned a Bachelor of Science degree in the Recording Industry, with an emphasis on Music Business, from Middle Tennessee State University in December of 2015.  
  "I studied publishing, marketing, copyright, artist management, record label operations, contracts and legal issues, and touring and concert promotions," Alicia says. "I got excited about putting my new knowledge together with what I learned growing up to help promote the music I love." 
  Jeff Parker & Company is one the first acts to join Wasson's new venture. Parker's band offers plenty of high energy, with a healthy dose of Jeff's characteristic humor. Bluegrass is the order of the day, but Parker is known for a little classic country sensibility to flavor the music. 
  The current band lineup includes Parker on Mandolin and vocals; Colin Ray on guitar and vocals; Joey Cox on banjo and vocals; Max Silverstein on fiddle; and David Chrisley on bass. 
Time Has Made A Change is available 9.27.19 on Truegrass Entertainment. 
TRACK LIST 
Southern Wind 
What About You 
Dixieland Or Bust 
He Guides My Life 
While Endless Ages Roll 
You Can't Break My Heart 
A Memory Of You 
Carolina Line 
Wrong 
Time Has Made A Change In Me 
www.jeffparkerandcompany.com 
MEDIA CONTACT 
claire ratliff 
laughing penguin publicity